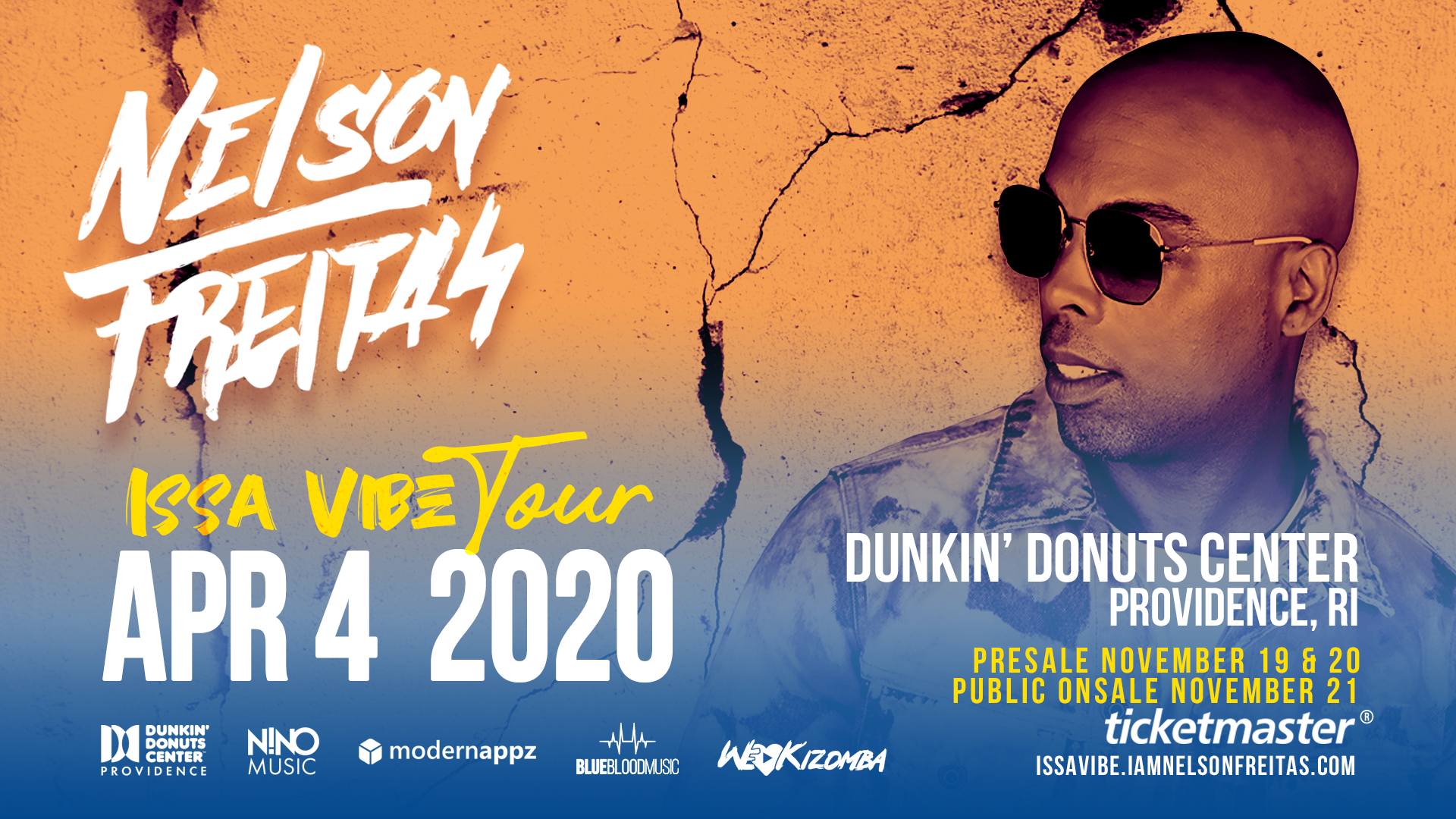 [Friday, November 15, 2019] - Nelson Freitas, international recording artist known by his fans as 'The King of Kizomba', will return to the United States of America on Saturday, April 4th, 2020 for a major concert at the Dunkin' Donuts Center in Providence, Rhode Island.
The Issa Vibe Tour will follow Nelson's fifth studio album, Sempre Verão, featuring hit singles "Nubian Queen," "Every Day All Day" and "Bolo Ku Pudim".
"While I have loved the many countries and millions of fans I have been fortunate enough to perform in front of, there is a special place in my heart for those in the USA. I'm very excited to be returning to the Dunkin' Donuts Center in April and celebrating my birthday on stage." - Nelson Freitas
Author of multi-platinum hits "Miúda Linda" and "Break of Dawn," Nelson has received over fifteen music awards from across the globe, most recently including "Best Lusophone Artist" at the African Music Magazine Awards (AFRIMMA) in the USA. Nelson, who is signed to record label Universal Music Portugal and Sony Music Portugal prior to that, has emerged as one of the most powerful and popular artists of Cape Verdean descent. With hit singles sung in the English language such as Break of Dawn, Something Good, Simple Girl, Rebound Chick and Deeper, USA is now Nelson's top selling market with streams and video views in the hundreds of millions. Nelson's unique sound is a fusion of Kizomba, Hip Hop, and R&B along with traditional rhythms of Cabo Verde.
The concert will be produced and executed by Nino Music (of the United States) in conjunction with Blue Blood Music, Nelson Freitas' own production company. Nino Music, which has produced large scale concerts, events and nightlife venues in the Northeast for over fifteen years is very well respected within the industry.
''I have worked very closely with Nelson for many years now and I can easily say that I have never worked with an artist with such focus, determination, attention to detail and pure talent. This concert will be yet another testament to that and it will be an event his fans simply can't miss!" - Nick Pinheiro, Artist Management
Presale Code for the Dunkin' Donuts Center is available NOW at: http://issavibe.iamnelsonfreitas.com